Today, I'm just trying to check up on my posting. I never got around to posting the kids Halloween costumes. All three boys wanted to be the three aliens from ToyStory for Halloween. That is, until the end of September when we went to Disneyland and they got to attend the "Jedi Academy" and wear jedi capes and fight Darth Vader. Then, Anakin really wanted to be a jedi knight. But, I'm kind of a nerd, and I really wanted my children dressed in a theme. Two aliens and a jedi knight is just not as cool as three aliens from ToyStory. So, I decided to amp up my stress level and sew each of the boys not only an alien costume but a jedi costume as well.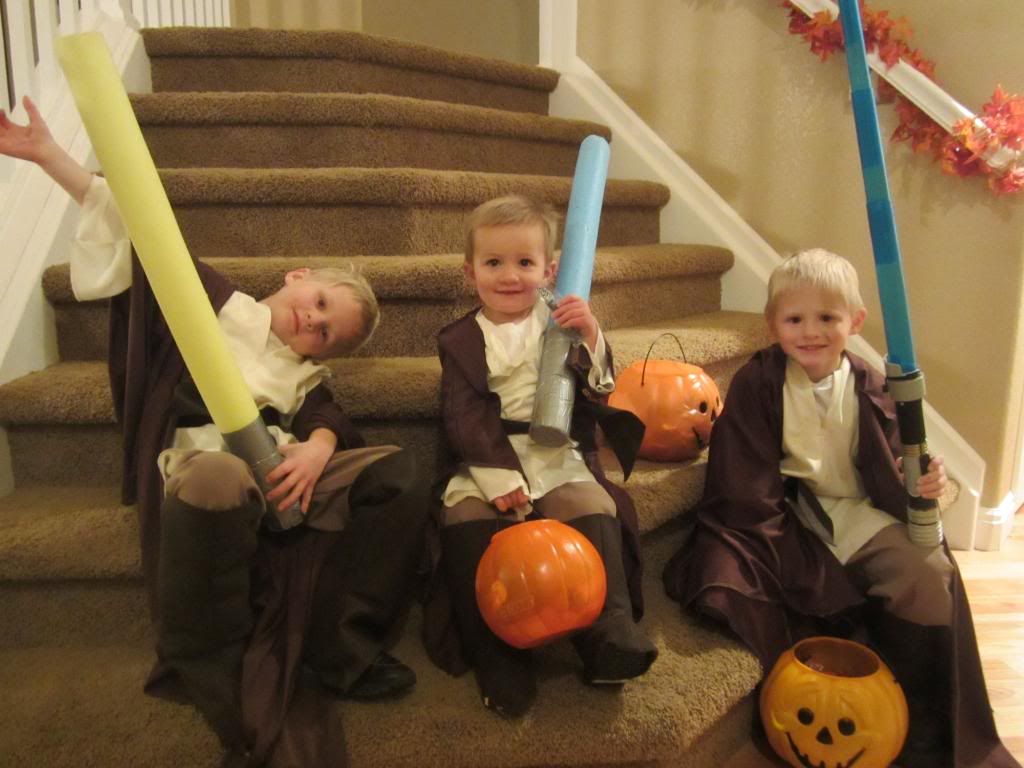 In my very first initial brainstorming, I was just going to sew Anakin the jedi costume as well as the alien. Because the alien has a head piece, he wouldn't have been allowed to wear it to school.
Without the 3 eyes and antenna on the headpiece; he would have looked slightly dorky and totally unrecognizable. So, I decided that he would get a jedi costume too. With the amount of Star Wars pretending that goes on around here, I knew it wouldn't go to waste. Well, if Anakin was going to get a jedi costume, Buzz needed one too. They are always playing Star Wars together. When Mr. Right saw me cutting out the capes and realized what I was making for the big boys, he suggested that I make a 3rd cape for Mr. Bean as well. Really, how could I leave the littlest terror out? So, I ended up sewing 6 costumes: three aliens and three jedis.
The boys wore their matching alien costumes to our church party. Anakin wore his jedi costume to a Halloween party with a bunch of his school friends as well as to school. Buzz and Mr. Bean wore the alien costumes to preschool. Then, the boys all wore the jedi costumes trick or treating on Halloween night. They had a great time and the costumes have been worn many times since Halloween. Well worth the time and effort!
So, how did I make the Alien costumes?
For the jumpsuits I used Butterick Pattern 6695. Its a costume pattern with a jumpsuit with variations to create anything from a puppy dog to Santa Claus. I knew that I could take the basic jumpsuit and add the alien elements to it. I used a lightweight flannel. Here in Colorado, we never know what the weather will be like, so this was flexible. The kids could easily layer sweats underneath the flannel if needed, but if the night was mild, they would be fine with just the jumpsuit. I cut a 5in wide strip of royal blue felt to sew around the waist for the alien's belt. For the collars, I used purple felt. I created a freezer paper stencil to paint the planet.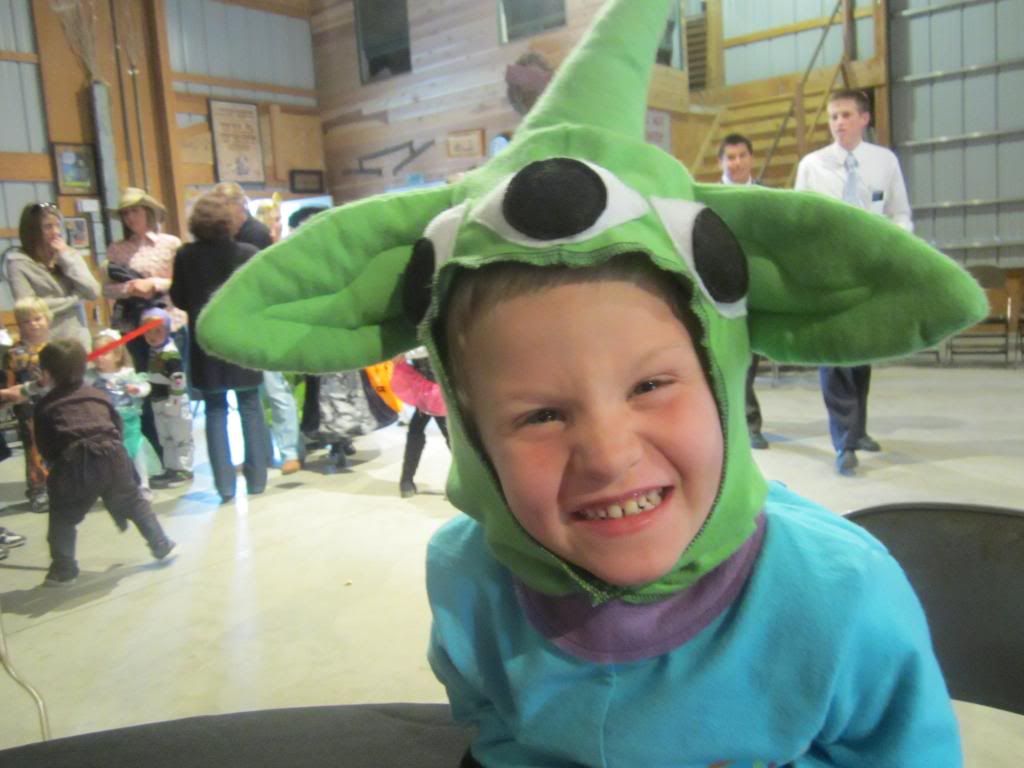 For the head piece, I altered the pattern's existing tiger headpiece. I simply drew ears that looked similar to the alien's ears and used that in leiu of the cat ears that came with the pattern. I sewed a cone shape and then stuffed it before hand sewing it on as the antenna. I used my machine for the eyes, just leaving a tiny opening on each that I could use to stuff, and then I hand sewed it shut.
Finally, I created spats to cover the kids shoes from Simplicity 9810, using the same blue felt as the belts. The same pattern also had mittens that I modified to create the 3 finger hands of the aliens. However, since the kids only wore their "hands" for about 2 minutes, I didn't even get a picture.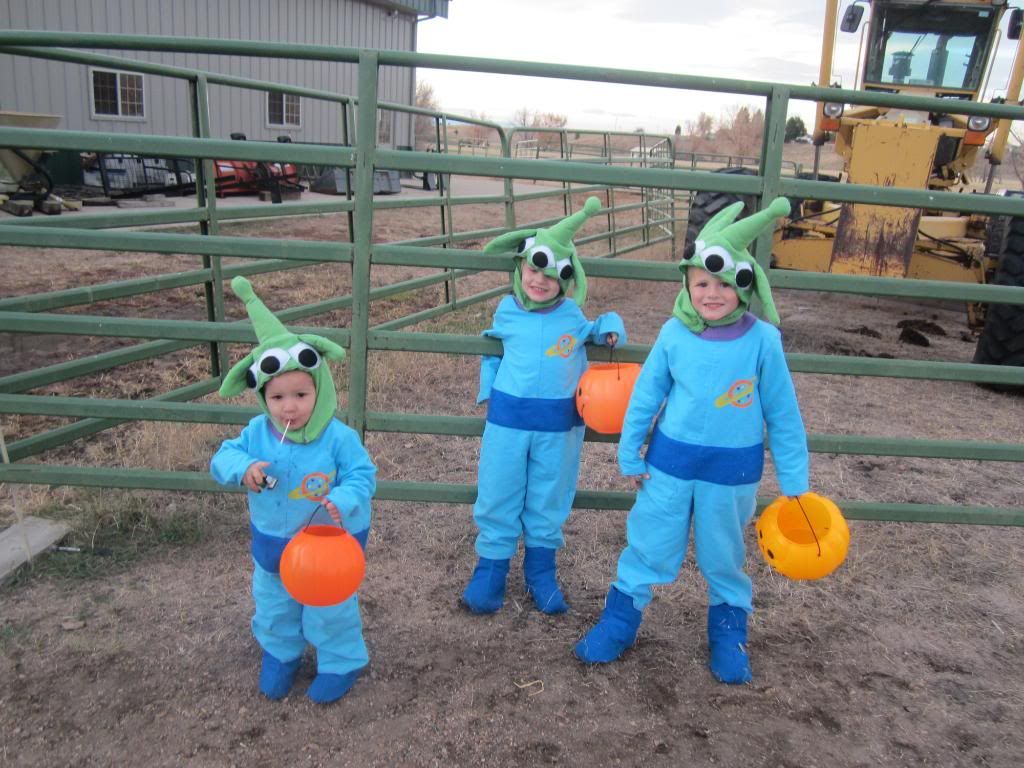 The jedi costumes were actually much faster for me to whip up.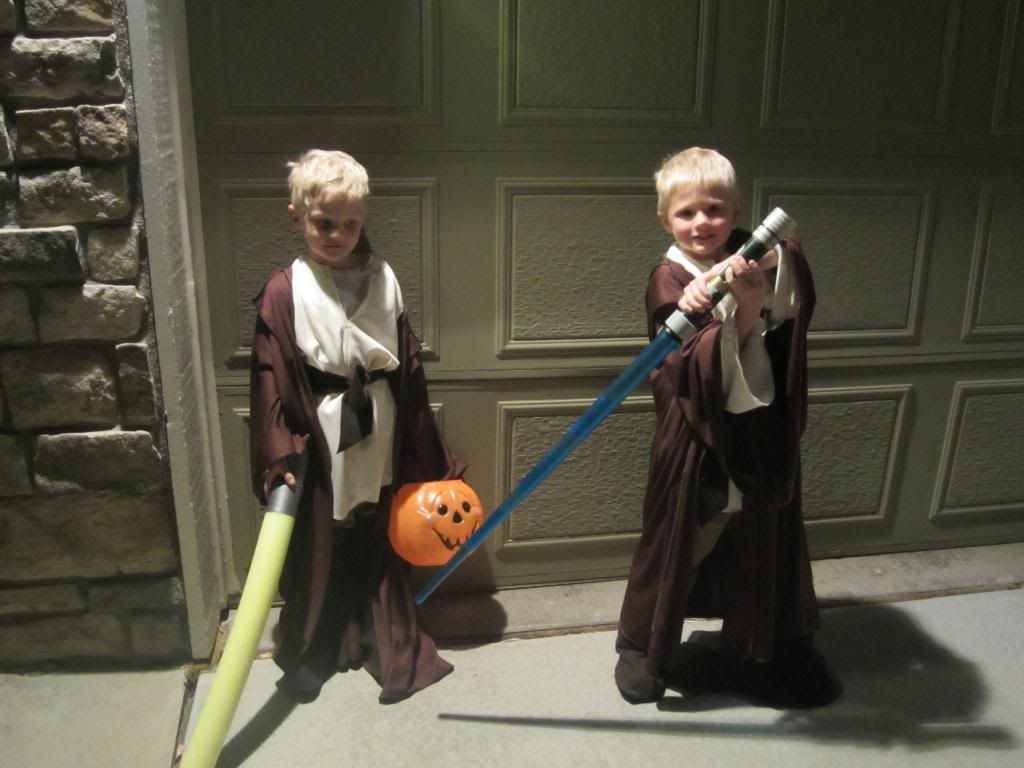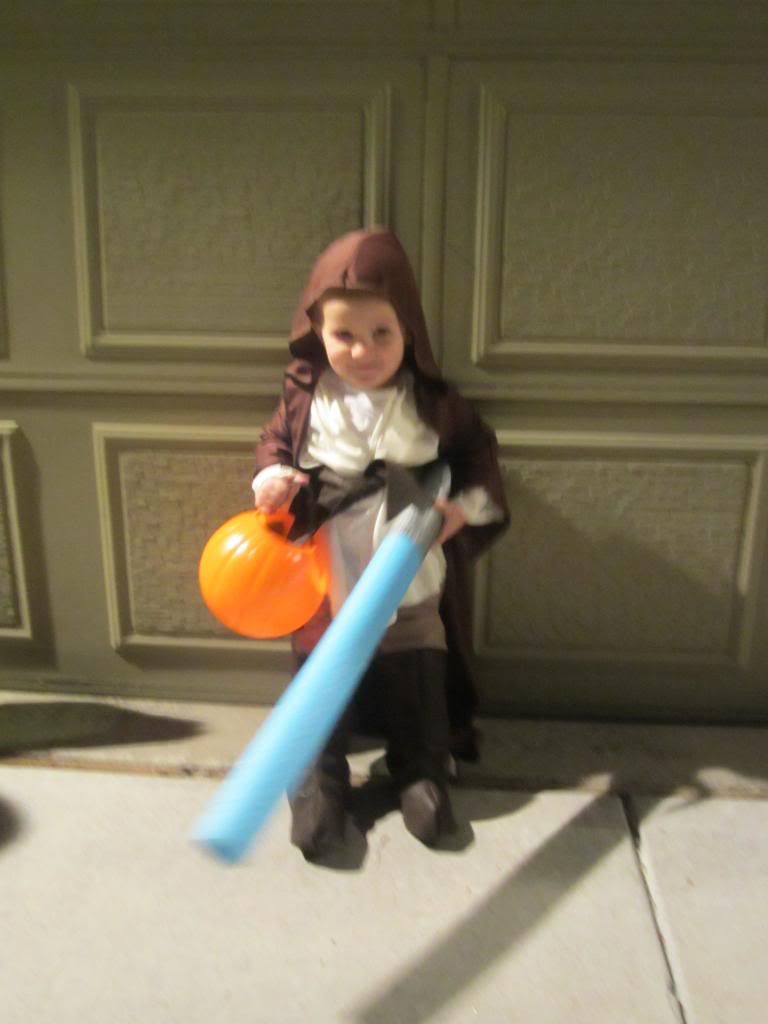 To create the boys' jedi costumes, I used 4 patterns.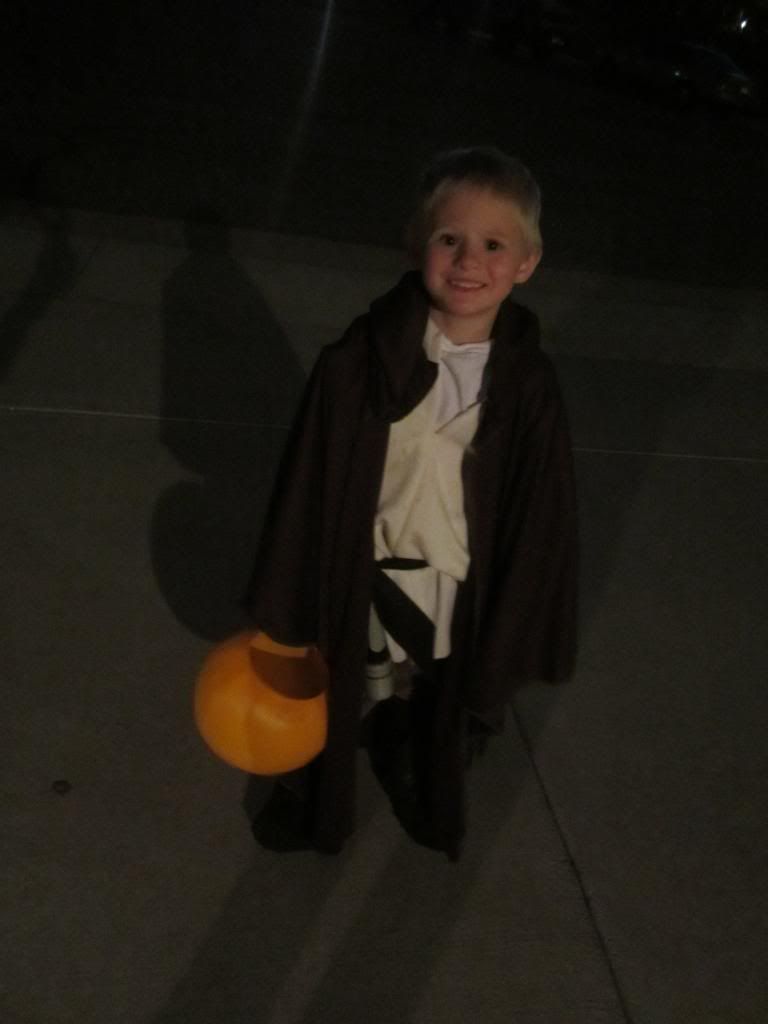 For the tunic, I sewed McCalls pattern 3789. I used a cream ponte double knit (think old lady knit pants fabric!) Its the perfect type of fabric for kids wear and tear; its nice and thick and doesn't wrinkle :)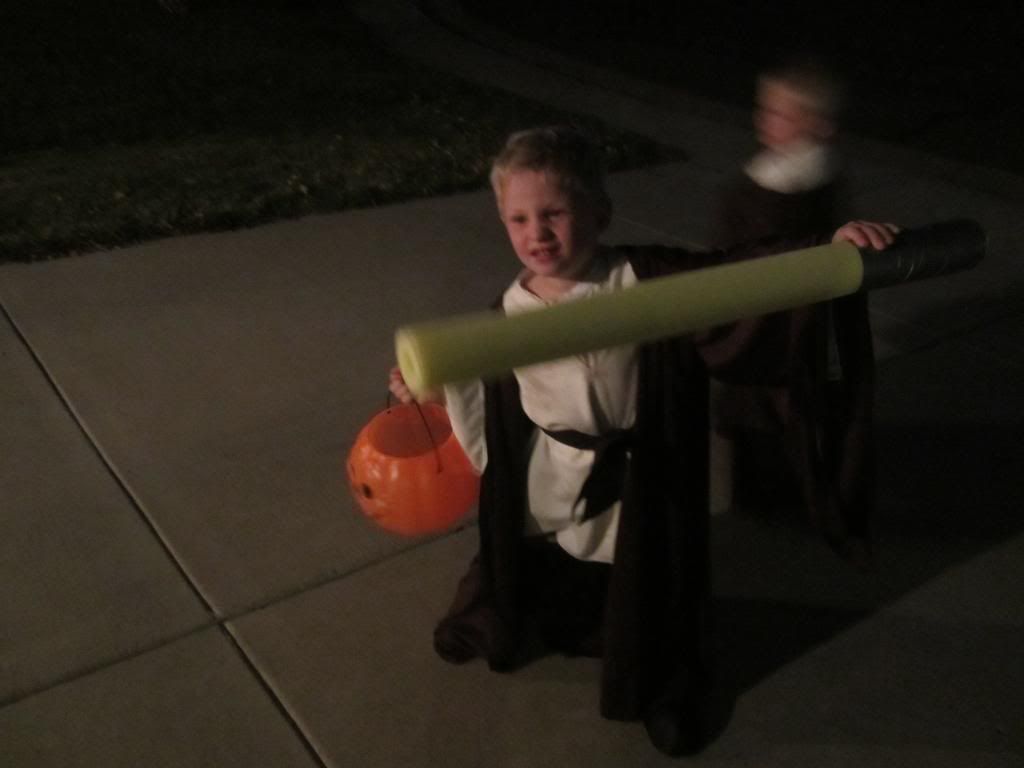 For the jedi pants, I used a pajama pants pattern (Simplicity 5974) purely for ease and speed. This pattern is just one piece of fabric for each leg, so you just have an inner leg seam. Super quick! I used a polyester that won't wrinkle since costumes end up stuffed in the bin and not folded. At least at my house. Lol!
For their capes, I used McCalls 5952. I used a really lightweight knit that has a ton of spandex in it. It ripples and flows beautifully which is just what a boy needs when he's fighting an evil Darth Vader- an awesome cape.
For the boots, I used the same spat patterns as I used for the alien shoes, Simplicity 9810. This time however, I modified it slightly so that the boots would go up higher on the legs, just like the jedi boots. I used brown felt. I also made their belts from 3" strips of the brown felt.
And lastly, their light sabers are made out of pool noodles. This isn't a new idea, but just in case you've never seen it before, I will elaborate. I simply cut noodles in half, then wrap one end in duct tape to form the hilt. They are perfect for little boys that like to wack each other. When my boys pretend, they like to actually pretend they are fencing, and the plastic light sabers sold in the stores can really hurt! This way, my boys can wack each other to their hearts' content without the hurts and the tears.
I will be linking up to these fabulous parties this week!